I just noticed today I only posted one entry in my blog for Feb.
when I came to update my blog, so I am going to try and do a quick
update for Feb before I start on March stuff LOL
~~~Crochet Updates~~~
Here's a picture of how my Grandma's Flower Garden is so far it's
on our basement couch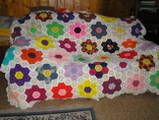 I put it on our bed today(queen size) and I figure that I have 2 more rows
of flowers to make then make up some half flowers for the sides.
I am useing a size G hook and each hex takes about 10 min. to do.
I am almost out of white yarn so it looks like this afghan is going
to cost me some $$ now since I 've been using up all my scrapes lol
If you want to see a bigger picture here's the
link
~~~~~~~~~~~~~~~~~~~~~
My daughter LOVED her Love Bug from
Annie's Attic free pattern on Feb 1st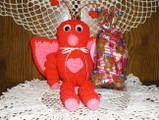 if you want to see it bigger here's the
link
~~~~~~~~~~~~~~~~~~~~~~
Dee of
CrochetWithDee
had guest bloggers while she celebrated her birthday for a week with her family
(it was winter break) and she chose my entry as the winner
I was sooooooo excited when I found out that I won the gift certificate
to Jo Annes
~~~~~~~~~~~~~~~~~~~~~~~
A great BIG thank you to the Crochetville Fairy or should I say Crochetville Cupid since I received my package on Valentine's Day
I was sooooo surpised and excited when I opened up my box Thank you Thank You Crochetville Fairy are you a psychic? I received 2 thread pattern books and lots of thread. Can't wait to get started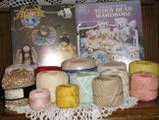 Bigger picture
One of my son's got engaged yesterday and I'll be making up the bride & groom bears . I already know the first angel I'll be making is the one from Japan for my DL she's from Japan .... that's why I asked if the Chrichetville Fairy is also a psychic