I really liked how my Funny Bunny turned out so I had to make it into my header here for Easter :) I also finished my april calendar you can find it at the bottom left hand corner ..... feel free to use it just please link it back to here so others can also enjoy it "THANKS"
At PSP4all I did the Fairy that was posted for one of the lessons here's my result:
I decided she needed to be surrounded by some spring flowers and here is what I came up with: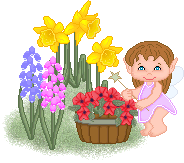 The flowers I did last year for a lesson at "Graphic Groove" from a tutorial by Di at Prestigouis Dames ...... sad to say that Prestigouis Dames closed the end of last year .... they always had such FANTASTIC tuts!
~~~~~Family Updates~~~~~
Christopher & Yumi have been getting a lot of rain the last few days in Hawaii and alot of places are shut down because of floods in some places the power has been out.They sent us 20 burnt DVD's ..... Today Amelia & I watched Shark Tale then Julian , Amelia & I watched The Longest Yard (the remake) I really like the remake better then the first one!
The Military still has know idea what happened to David in El Salvador in November ... his liver enzimes are still not all the way down but he feels really good. the Navy says if his liver isn't all the way down by the middle of May they will do a biopsie ..... I wish they would of done it months ago!!!!!!