Boy to I have a lot of catching up to do! Let's start with crochet things:
Christopher and Yumi bought their new dineing room set so I've been adding more motifs to their tablecloth I've been working on. Here's what it looks like right now
on our basement table.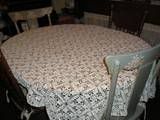 The Flower Swap has been done for a couple of weeks now at Crochetville, sorry it took me so long to get the pictures up from the swap ..... PLEASE don't send me to the corner!
I forgot to take a picture of the flowers and goodies that I sent but here's a Picture that one of my swap partners took :)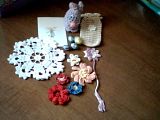 Now for some pictures of the flowers I received .... WOOOOOHOOOOO!
Here is what Ann sent me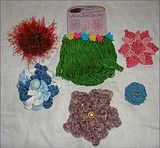 I really liked the "Hula Cozy" and talked Ann into writting up the pattern to share with everyone.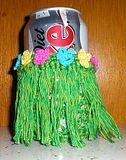 If you would like the pattern for it go
HERE
I'll post the rest of the swap pictures tonight .... have to get ready for work