Here's the beautifully unique doily I received from Sheela at Crochetmania's doily swap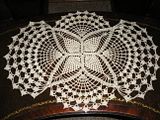 The table it is on is a cresent shaped table and the whole family really likes how it looks on it
Thanks again Shella I will treasure it always!!
Vims & Shaheen your doilies are just about finished along with a little goodie :)
Soooo glad that your back Vims after your move!
~~~~~~~~~~~~~~~~~~~~~~~~~~~~~~~~~
I've been working on dishcloths for one of the cals at Crochetmamia to put in my big wicker basket that I put out at Christmas time for guests to pick stuff from but whats happening to me is every time I get a bunch made up someone stops by and wants some of the Dishcloths LOL
here's the pile I have going right now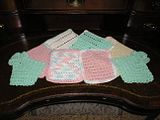 Hope you have a FANTASTIC day!