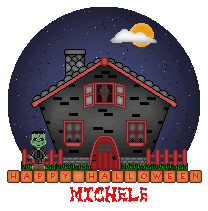 Hope your day is off to a FANTASTIC start!!!!
I've been busy trying to finish up some of my WIPS and here's what I have done so far:
Peppermint People :0)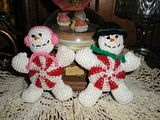 Aren't they cute! I have 7 more to build I have all of the pieces crocheted, I plan on giving one to each of my children of course Yumi gets a girl (Chris's wife) and Kathy also gets a girl (Davids soon to be wife)I always try and find a unquic ornament each year and this is the one for 2006 LOL
Blue Heaven Doily:
I made this for one of the groups i'm in ..... had Jim (DH) pick out the colors and he really likes how it turned out and won't let me give it to anybody as a Christmas gift LOL
Family life :
My cousin picked up my Mother on Sat.(she lives with us)to give us a break for a couple of weeks Bonnie will do this a couple times a year THANKS CUZ!!!!! I wish my brother would help us out but that's really wishing big time!!!
Chris & Yumi: Yumi left yesterday to visit her family in Japan for 2 weeks .... boy is Yumi's english getting really good I'm still amazed at all that Chris & Yumi have gone through both of them learning each others language ..... that's true LOVE!!! Wonder if I'll be a Grandma coming up after the earthquake they had in Hawaii LOL
David & Kathy: Their both busy planning their Wedding (St. Patricks day 2007) I have a feeling that Davids keeping something from me but everytime he wants to talk to me Kathy is there ..... hope it's not anything to do with his liver again!
Dominic: He's doing really good with collage, so far all A's he's studing to be a Rad Tech
Julians home sick today he's got a really bad cold
Amelia is also home from school today she was in an accident last night and her leg is really banged up ... hopefully it will be easier for her to walk tomarrow
Jim is Jim nothing new there!
Me I'm just trying to keep sane and biting my tonque a lot it's not worth complaning