My fingers have been flying with my hook trying to get a lot of Christmas gifts done for Family & freinds.
Here are a few of the doilies I made in Sept.(some stuff I can't show yet)
This Doily is called "Lone Star" I made it for one of the groups I'm in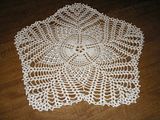 Here is "Victoriana" I really like how this one looks ..... I've made 2 in white & also 1 in blue so far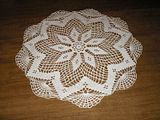 I started this one a while ago but had to put it aside ...I was having trouble added all the pansies.When I picked it up again it clicked for me how to join them onto the doily WOOOOOHOOOOO! The name of the doily is "The New Pansy Doily"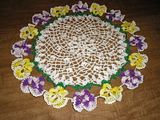 I joined the HOLIDAY SECRET PAL at CrochetMania and have already made up some goodies for my pal and started on some shopping ..... can't wait for my next paycheck to do some more shopping LOL