OMG Thank You, Thank You, My Holiday Secret Pal !!!!!!
My secret pal emailed me on Friday saying that "you will be getting a little something" in the mail probably on Tuesday and I was on the lookout for the mailman. when he dropped off are mail there was nothing there so I figured it would come maybe tomarrow. Well my mail man came back in his truck with a box and a BIG smile saying I have something for you Michele (my mailman gets as excited as I do).
Boy did you spoil me SP!!!!!
Here's what she sent me: 7 hanks (I think that's what their called)of Patons Vodoo , a hank of Ardour, also a hank of Dolcetto, 2 skiens of nobo no boundries ( 1 yellow & 1 blue) wait I'm not done yet! A 2 piece bathpad set, a box of hot cocoa flavor" Chocolate Graham" , 4 bags of mango passionfruit (sounds yummy) and last but not least a bath set with shower gel, bath fizz and body bar the scent is Vanilla Milk and it smells sooooooo relaxing
Here's the pic of all the goodies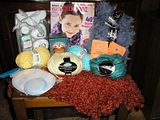 Thank you,Thank you,Thank you,Thank you,Thank you,
My very special Secret Pal!!!!!
Almost forgot to mention she also made me a soft and cuddley scarf my daughter was eyeing it maybe I'll let her borrow it sometime and Family Circles Fall easy crochet
I wonder who you could be??????????