Happy Halloween hope your day is SPOOKTACULAR!!!!!!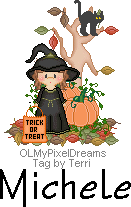 I received a GRET big treat yesterday from my Holiday Secret Pal at Crochetmania
She sure did spoil me & I can tell she had a lot of fun. I thought I'd only get a little card saying who she was but instead she sent me another box of goodies
I don't know how she fit everything into the box LOL Here's what she sent me: A oatmeal sope on a rope,Cinnaman bath salts(my daughter already told me she was going to use them first LOL),White Tea Spa body wash and a grape Harvest candle smells like grape kool-aid almost forgot to mention about a facial sponge Some amazing crochet thread doily patterns I just love Pineapples and flowers in a doily how did you know? Flower Garden Pieapple doilies from Annie's Attic,Pineapple doilies littlebook by Leisure arts, Delightful doilies little book also by leisure arts, Lion brand 5 crochet Bag designs and Our Best Christmas Thread Crochet by Leisure arts .... it has 42 patterns in it boy will I be staying out of trouble this winter with all these GREAT patterns! Are you still here I still have all the yarn to mention LOL Lets start with the nobo no boundaries, 2 balls of pale yellow, 1 white & a lovely pink,Homespun baby yarn shade sweet pea, Bernat softee chunky,Rozetti arizona beautiful colors!,Lion brand Color waves color night sky,Sensations Casual Boucle, some eye lash yarn by Bernet I like how the color pops , Trellis ribbon yarn in shades of blue with siver boy ar my fingers tired!!!
Here's a Picture of my reveal package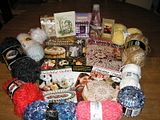 My Secret pal is the GREATEST! Now that I know who you are I'll be keeping in touch
Thank You Thank You my very special SP
Almost forgot to mention I put your name and a little note about the swap in all the pattern books years to come I'll always have a BIG smile whenever I make something from one of them thinking of you
I'll let everyone know who you are once the swap is done :)