Our Christmas tree after Santa left our house:)
Sorry I havn't updated in awhile please don't send me to the corner! All Holidays even Birthdays are realy crazy around my house it could just be me stressing out about everything and wanting everything just right. Christmas morning turned out really nice lots of joke gifts and gifts that will be treasured for years to come. All the food that I made was excellant and mine and Amelia's desset tray was a big hit, we made some homemade fruitcake ,angel wings and a bunch of cookies on the sly when all the guys were out of the house LOL ...... boy do I have to go on a diet anybody want to join me
Here's a picture of the butterfly doily that I made for Amelia for Christmas she was soooo surprised about it sure makes a mother feel good when the kids like something I make for them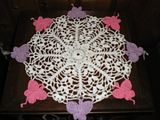 We really don't have any plans for New Years we always just stay home and have a lot of little goodies to snack on but I wouldn't have it any other way
This morning I did some Christmas shopping at Annie's Attic clearance sale with a gift card that I recieved from my DH he put it in my Christmas stocking LOL .... wanna see what I ordered?
Annie still had the one book that I've been eyeing for awhile so that was the first thing I ordered
'Tis the Season to Crochet'
Maggie's Crochet
has a great page all about the book I can't wait until the mailman brings it LOL
The next book I ordered sounded like it will have a bunch of neat things to chrochet in it
'Crochet Wishes & Wonders'
Does anybody have this book? If so what do you think of it?I still have some money left over on the gift card but I m going to save it for a rainy day LOL
Hope every one is feeling good and every thing is realy fantastic in your households I'm sending some great BIG hugs and prayers your way (you know I worry about you all)
It's the SOS around my house but I can't and won't complain it just doesn't do any good ........ Love you all!!!