Boy has it been a while since I updated my blog! The weather here is still really cold last week (2-5 & 2-6) J&A had off of school for 2 days because of the wind chill -18 degrees and on Valentines day they had off of school for a snow day, we had 6 inches of snow with gusting winds at 30 miles per hour some snow drifts were close to 2 feet high ... soooooo glad we have a snow blower!
AROUND THE HOUSE:
This years Valentines Day will long be remembered around my house.
Amelia was online IMing with Cathy (soon to be daughter-in-law) then Cathy called to talk to her on the phone (really hush hush) then the phone was handed to me after talking for a bit Cathy told me to not go any where cus someone would be by in the next half hour. Well the first thing that came to mind for me was a flower delivery how about you? Instead it was a pizza delivery for the whole family ... lunch all the way from Maine the pizza was even hot LOL
Christopher & Yumi called from Hawaii to wish me a Happy Valentines Day and also to tell us the results of the ultra sound. Drum roll please ........................
.................................................................................
.................................................................................
According to the ultra sound my first grandbaby is going to be a boy :)
CROCHET STUFF:
I'm still working on Dave's & Cathy"s tablecloth and I'm getting closer to haveing all the motifs done still have about 20 more to do then on to the border. Been busy making some more doilies will post some pictures of them some time next week.
SWAPS: I joined the kitchen/bath swap at Crochetmania and my partner and I are both done :)
Selena was my patner for the swap and boy did she spoil me. I'm going to copy what I posted at the mania hope you don't mind ..... I'm lazy LOL
Here's the pictures of the wonderful goodies that Selena sent to me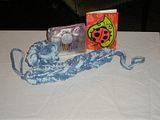 1. a bath scrubby
2. a bath back scrubby
3. some burts bee's for mature skin sampler (do you think it will make me look 10 years younger? LOL)
4. a cute ladybug note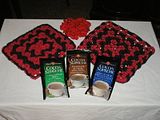 1. two pot trivets ....the picture shows the front and back
2. a kitchen scrubby
3. hot cocoa in these yummy flavors ....chocolate& frech vanilla,chocolate supreme, and chocolate mint ..... I'm having the chocolate mint right now
My DD wanted to use the back scrubby but I told her only if she used the kitchen scrubby first
Thank you Selena for all the wonderful things I really like the pot trivets they are really unique. Thanks for being a GREAT swap partner I'll treasure everything always!!!!
Here's what I sent Selena: (coping her post)
I am so happy! Michele, I got your swap package today!
You DID go all out! And I certainly am a lucky woman! Look
and see what all she sent to me!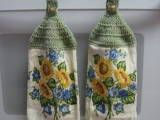 Two kitchen towels with sage green crochet towel toppers!
With sunflower buttons! Yea!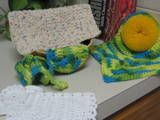 Two ecru and mutli fleck dishcloths
One cool microwave potholder on a string, so when you take those
hot dishes out of the microwave, your fingers won't get burned.
One angel dishcloth in white
One dish scrubby with a skirt! Joking, a dishcloth and scrubby
all in one!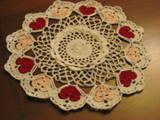 And just in time for Valentine's Day a beautiful heart doily!
My measly pic skills do not show how beautiful. Also,
2 Giant Chocolate(Yum!) bars, and a special surprise- 3 bars
of oatmeal honey soap ! Michele had sent me some at the
Christmas Secret Pal swap and I loved it and so she was so nice to
send me some more, cause I whined because I used it all up!
Thank you, dear Michele. I am so pleased and I really appreciate
the effort and time and thoughtfulness!
Love and hugs!
Selena
MORE SWAPS:
I'm also in 2 other swaps ..... Crochetville Secret Spring Pals ( already have my partner who I'llbe spoiling) and the Tea Cozy swap at Crochetmania (waiting for my partners info) So I'll be busy crocheting some more goodies i really enjoy doing swaps in case you can't tell:)
WORK & CHURCH:
As some of you already know I work at a Catholic School part time (I'm on winter break right now) and I found out a couple of weeks ago that the school will be closeing after this year, not enough children enrolled for next year everyone saw it comeing so it really wasn't a surprise just very sad. I still haven't decided if I'll look for another job next year or just retire
CHURCH:
The first festival meeting was last week (I'm co chair person for the afghan booth)it sounds like some of the new plans for this years festival are keepers. I already have 3 afghans donated and alot of yarn donated just waiting for calls for who needs some yarn (we have a lot of seniors on a tight budget who love to crochet that's why we ask for yarn donations)
Well that's all for now sorry about the mini novel hope I didn't bore you to much but that's what happens when I don't update
Hope your day is FANTASTIC and that your surrounded by loved ones!