I got a call from Sailor son #1 last night telling me what Domin's birthday present will be since he'll be in Hawaii celebrateing it. Chris & Yumi got him tickets to a great big Earth Day festival in Hawaii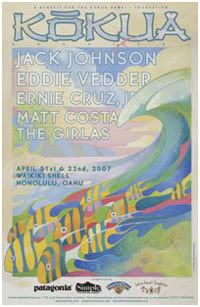 EDDIE VEDDER JOINS JACK JOHNSON AT THE
FOURTH ANNUAL KOKUA FESTIVAL
APRIL 21st- 22nd • WAIKIKI SHELL • OAHU
Honolulu, Hawaii - February 2, 2007 - Hawaii's own, Grammy-nominated musician Jack Johnson is proud to host the Fourth Annual Kokua Festival on Earth Day weekend- April 21st and 22nd, 2007 at the Waikiki Shell in Honolulu, Hawaii.
The festival's incredible music line-up includes Jack Johnson, Eddie Vedder and Boom Gaspar of Pearl Jam, young troubadour Matt Costa, and local Island favorites: Ernie Cruz Jr., and the Girlas.
All proceeds go to the Kokua Hawaii Foundation, a non-profit organization founded by Jack and Kim Johnson to support environmental education programs in Hawaii. The funds raised from the Kokua Festival will be used to further support school recycling on Oahu, sponsor field trips and curriculum, and develop the new farm-to-school program 'AINA in Schools.
Jack Johnson - Sitting, Waiting, Wishing
jack johnson - better together (live)