Crochetville's Secret Pal Update
My secret pal knew just when I needed to be cheered up with her ecards and emails during the swap and she sent me the most amazing reveal package everything is my type of style ( I wonder if she took a trip to my house to find out all about me LOL) I recieved her reveal package yesterday and opened it up last night
In her letter she told me that she got me the HH SNB book and what blew me away is that I just added that book to one of my wish lists yesterday morning!
Thank You Thank You SP for all my goodies I will treasure everything always!!!
Here's what I recieved:
Books & Patterns
Happy Hooker SNB ,Thread for the home, Wavy swawl, 14 Pineapple designs (1946), Family Heirlom doilies, Big book of slippers, Crocheting patchwork patterns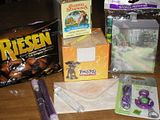 Happy, happy twisted whiskers note cube,a bag of riesen candy,Chamomille tea, a really pretty shaped notepad (hate to use it),yarn cutter, some tiny beads, cone & stick lavender incense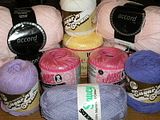 4 sliens of accord,sugar n cream in grape,soft violet and also white, 2 balls of Aunt Lydia's thread in warm rose, a ball of Royal thread in maize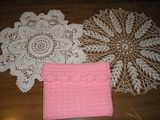 Pk doily, a doily done in size 30 thread (both of them are BEAUTIFUL) and a really unique hook case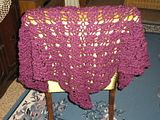 A wonderful old fashioned looking swawl in a gorgeous plum color
Thank you Yammy for being a very special secret pal to me
I'm still on floating on cloud nine!!!!