Did you know that today is national Cheesecake Day? My Secret Pal at the "mania" sure did ........ now my mouth is watering for cheesecake.
Dominice arrived in Hawaii with no problems just hated the 12 hour flight to get there. Lets get back to cheesecake LOL Ever since Dominic was about 3 years old he's always requested cheesecake for his Birthday cake this year I won't be making one for him his birthday is April 26th :( Yumi & Christopher are going to try and make one for him and I don't think they'll have any problem .... thier both really good cooks! I tried a ton of differant recipes and here is the cheesecake recipe that I've been using for the last 25 years ....... don't think or count the
calories when it comes to cheesecake LOL
California Cheesecake
Crust:
2cups crushed graham crackers
21/2 tablespoons sugar
1 teaspoon cinnamon
2/3 melted butter
Filling:
750g (1 ½) cream cheese
1 cup sugar
2 tablespoons flour
5 eggs separated
1 egg
1 1/2 cups sour cream
4 tablespoons lemon juice
¼ sugar
cinnamon
1. Mix the graham crackers with the sugar, cinnamon, and melted butter. Press over bottom and sides of a 10 inch spring form pan. Chill until ready to use
2. Soften the cream cheese and beat in the cup of sugar.
3. Add the flour and salt and mix well.
4. Beat in the egg yolks plus the whole egg, sour cream and lemon juice.Mix really well the longer the better
5. In a separate bowl ….. Beat the egg whites until they form soft peaks, then add the sugar and beat until stiff. Fold into the cream cheese mixture.
6. Pour into the preparded crust and bake in a 300 degree ovan for 1 ½ hours. Turn off the heat and let the cake cool in the oven for about an hour. Chill in the refrigerator until firm.
7. ENJOY!!!
I Found out over the weekend that Sailor son #2 (David) is going to be deployed to Japan for six months come June ..... thank God it's not like his last deployment
Julian had a big Tennis tournament on Sat (april 21) and won a silver medal WOOOOHOOOO!!!! He plays 2 singles and of course he had to brag to his older brothers (that's how my kids are) He called Hawaii first (Domincs the asst. couch for the team)Chris told him that he beat dominic finialy in tennis (psp3)LOL then he called Maine and David was pissed at first but told Julian the only reason he won is because he taught him how to play too funny ..... all my sons are VERY competitive if you can't tell. The reall reason he didn't get gold is the guy he was up against was 7 ft tall and didn't even have to move, usaully it's Julian having the hieght advantage being over 6 ft tall. The team as a whole is 4-0
Here's some pics from the tournament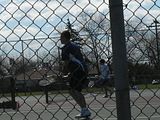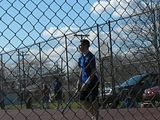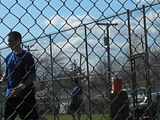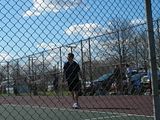 Trish your doily is looking BEAUTIFUL I'll be ready to block it for you tonight or first thing tomarrow morning :)
Hope your day is surround by Happiness!!!!