I know it's been awhile since I updated my blog sooooo it's time for another edition of "This & That"
CROCHET:


The Tea Cosy Swap at the Mania is all wrapping up. Here are some pictures of the cosy that I made for Misty I also sent her some tea to go along with the cosy
I hope she enjoys it as much as I did making it for her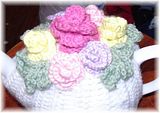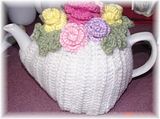 I found the pattern for the tea cosy
HERE
and made the flowers how I wanted them ...... I also made one for me but still have to put all the pieces together LOL
Vicki/mythunderbird made me this lovely teacosy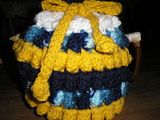 Vicki also sent me a bunch of goodies to go with the cosy Thanks again my friend,I will treasure the cosy & tea cup always!!!!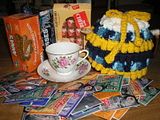 I'm working on the doily that I am making for Trish I can't say to much about it in case she pays a visit here the only thing I can tell you is that it has alot of pieces to it and 6 colors .... lots of ends to tuck in!
FAMILY:
More Wedding pictures. Here's a picture of David with his best man ... he had 2 can you tell what one is his twin brother? Thier both waring the same suits LOL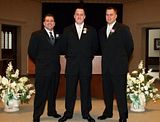 Here's a picture of the whole wedding party I think it's one of the biggest ones I ever saw. #4 son is the tall gangly guy in the back row on the right hand side
Around home lets just say I don't live in the perfect world and have the perfect family like you see on TV ... enough said about that
Dominic is getting ready to leave to go to Hawaii on the 20th of this month he'll be there until June 5th unless him and son #1 don't get along for that amount of time LOL
Well I have to get ready to go to work I'll be posting about that in the next couple of days
Take care of yourselves and be nice to a stranger it will do the both of you a ton of good and everybody needs some goodness in thier lives