As some of my friends know my DH's birthday falls on 9-11 we never really celebrated his 50th and everyother b-day after we celebrated the next day ..... well last year I had a great idea for his birthday since he was turning 55. I went out and bought him 50 tulip bulbs (his favorite flower) and 5 daffodil bulbs. He thought I was crazy when he unwrapped them but I told him just think you'll see your present in the spring and think happy thoughts about your birthday. Well it worked!!!!!!!! The daffodils are all spent and there's still a lot of tulips that havn't bloomed yet. Here's some pictures of Jims b-day tulips :)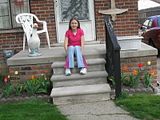 PLEASE excuse the weeds!!!!!
GREAT FIND
I'm a sucker to stop by a yard/garage sale and yesterday after work I stopped off at one and happened to find one with some yarn WOOOOOHOOOOO. I was shocked at the price she was asking and seeing some old yarn .....Sayelle from Kmart (I learned how to knit with Sayelle and it wiil seem wierd using it again),Wintuk from Franks nursury & crafts,yarn from Sears, a really cool big skien of varigated with no lable on it and also 1 skien of dazzle aire all in excellent condition no smell or anything :) Want to take a peek at what I bought I know you do ;)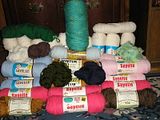 I bet you want to know how much I paid for all of it! Are you sitting down? $3.00 I don't think I'll ever find a yarn treasure like that agian!
Well I'mm off to do some laundry YUCK! Hope you have a FANTASTIC weekend .... I know I will I have today & Monday off of work ....doing the happy dance!