Sorry I haven't updated here in awhile with the end of the school year getting closer and closer it gets hard sometimes to update .... I'll try and do a better job
Veggie Garden:
This past weekend I spent most of it getting my veggie garden ready for planting I turned over the big garden and added a bunch of preen to it ..... my nieghbors lawn service from last year always would blow everything into my back garden and I had a ton of grass and weeds growing in it!!! I didn't add preen to all of it cuz I planted my beet, radish, and lettuse seeds in a section, still have to turn over my little plot where I grow my zucchini and carrots but that won't take long I lost one of my honeysuckle's in the back but I have some runners from my other one that has some roots starting on them :) Still have a lot of work to do in my back perennial garden I've lost a bunch of my flowers thanks to my nieghbor the grass took over hopefully I'll find some little seedlings and be able to baby them all of my roses and peonies are doing FANTASTIC this year!!! Be on the look out for some pictures of them
Family
It's still hard to believe that I'll be a grandma in July but I'm sure looking forward to it ... don't know when I'll be able to hold the little bunddle of joy since we don't really want to go to Hawaii in the summertime and we were planning to go in November but Christopher wants us to come out in September since he just recieved his new orders ....... he'll be going to Virginia in December to join the USS George Washington then in April the ship will be heading to Japan to take the place of the Kitty Hawk who is going to be retired (Chris was stationed on the Kitty Hawk for 4 years) I'm not really looking forward to him being part of the 7th fleet agian since the Hawk was one of the ships that was sent over there twice. Time will tell when I get to hold my little grandbaby for the first time
Dave and Kathy are doing really good .... very happy newlyweds!!! The adopted a dog a couple of weeks ago from the Humane Society she sure is a cutie her name is Zoe and she's 10 months old and a mix of lab & husky
I'll be getting to see Zoe this summer when Cathy comes to MI for a visit while David is deployed for six months to Japan he'l be on leaveing June 5th. David gave me some really good news over the weekend he already put his leave time in for Christmas and him and Cathy are coming home for the Holidays ( he hasn't been here for Christmas in 5 years)he said he wants a real Christmas LOL
Dominic is still in Hawaii and this week is a lot better then last week for him ...last week him and Christopher were ready to "bring it on" with one another but then they decided to go for a drive and they worked out everthing away from Yumi I told them to both grow up and stop being little babies since they were calling here a couple days in a row before thier big talk... I guess a mothers work is never done LOL
Julian is done with tennis and the team almost made it to State ,only 2 points away "Way To Go Huskies!!!!"
Amelia is just counting down the days until school is out for summer :)
Crochet
I've been busy finishing up another afghan for the Afghan booth at my Churches Festivial this summer when this one is done that will make 4 for me. Joyce and I decided that this will be the last year that we run the booth know one really wants to make afghans anymore.
I've also been busy makeing some goodies for my secret pal at the Mania but i can't tell you what just in case she stops by here LOL
For the Doily swap at the Mania I made my partner a bunch of Swans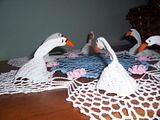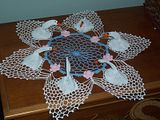 These are pictures that Trish took of the doily ..... I was sooo worried that the doily wouldn't travel good but it made it to her in pretty good shape Hope you enjoy it Trish as much as I did makeing it for you !
Work
My last day of work is June 5th ... boy is it going to be a hard day it's also the last day for the school since it will be closeing :( I still don't know if I want to work in a school next year or find another part time job in something ealse but I have all of summer to decide what I want to do :)
Hope your Monday is off to a GREAT start and that each day just gets better and better this week
Thanks to Julian I have this song playing in my head this morning ( he blasted it on before going to school) I haven't heard it in ages thanks a lot Julian LOL