Sorry it's been awhile since I've updated but REAL Life dose happen to everyone you never know when it will hit!!!
FAMILY Part1: My DH is doing much better and his new medication is doing the trick for him :) Boy was that a real scare at the beginning of the month, you realize how precious life really is .....Great big HUGS go out to 2 very special friends that were always online or a phone call away when I needed them ,you know who you are ;)
FAMILY Part2: All the kids at home are just about ready to start school .... new wardrobes, school supplies etc have all been bought we just have to buy Dominic's books for collage this is the semester that he'll be taking anatomy wish him luck.
It's hard to believe that Julian is a Senior this year and that when we were shopping Amelia is in the Junior section already ..... my baby's are growing up
Here's a picture of Julian getting ready to leave to get his senior pictues taken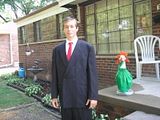 Sailor son #2 is still in Japan and boy is he busy he works 10 hours a day and 7 days a week ..... he's thinking about getting into a very special unit when he gets back to Maine .... more gray hairs!
Sailor son #1 is still in Hawaii waiting for his new orders to go through and enjoying being a daddy! On August 23rd Christopher earned his Bachalors Degree We're all soooooooo proud of him back home and so is Jacob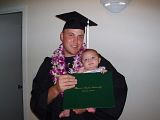 More pictures of Jacob:
Can you tell he lives in Hawaii LOL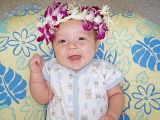 Christopher had a Courous George when he was a baby and he just had to get one for Jacob when he was in New York with Yumi, David & Cathy after the wedding in Maine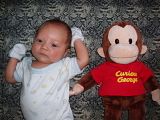 CROCHET: I've been busy crocheting doilies it sure helps during stressful times and keeps me sane. I have 3 doilies in the works right now. I'm working on another Swan doily this one is for the house here's a picture of the one I sent a swap partner (I'll have to try something differant for the necks to stay up ... but in the long run I think the necks look pretty good after being mailed)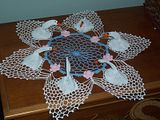 I'm also working on a "
Lovely In Lavender
" doily it should be finnished tonight then off to block it. I'm also testing a another doily for Kathy from CrochetNBeads called "
Summer Roses
" I feel in love with the doily when Kathy showed it at the "ville" and was soooo happy that I made it when she put out the SOS for testers :)
AMELIA & CROCHET: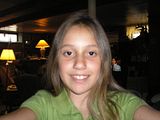 It's been way to hot around here to work with yarn and Amelia was itching to crochet something since she didn't want to work on her tote(yarn) I told her to look at CPC for a bookmark pattern that she liked and this is what she made ..... her first finninshed project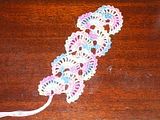 WOOOOOOOHOOOOOOO another threadie in the house ......Way To Go!!!!!!!!
Here's my dd working the afghan booth at our Church festival