I was a tester for
crochetsal's
cute Mouse & Bear ornaments for Christmas
Here's a couple pics of my finished ornaments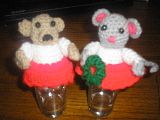 Now a bottom view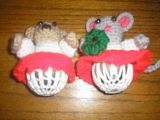 My little bear hasn't told me what she wants to hold yet .... hopefully she'll tell me really soon ;)
I'm also testing another pattern for crochetsal but I'm not going to tell you what it is .... hint it's another Christmas goodie LOL

Other Crochet Stuff:
I've got all the names done on the name doilies that I'm making for X-Mas gifts and plan to start on the borders this week. I signed up for the Holiday Swaps at the "Ville" and "Mania" and already started on a couple little goodies I DEFINAITLY can not say what they are!!!!!
Knitting News:
Jacob's stocking is all done except for the hanger and I'm working on the toe of Kathy's stocking :)
Boy does it seem strang working with yarn making something other then an afghan for my church festival ..... right now I'm in the yarn zone so be on the lookout for lots of yarn stuff LOL
Monday Madness
:
I got this idea from a friend in another country on her blog. I'm going to try and post a link to a pattern that is avaiable online every Monday to share for the Holidays ( Can you tell I have Christmas on the brain already LOL) Most of the links will be from file sharing sites so If you like what you see be sure to copy it before it's deleted ENJOY!!!
Award Winning Afghans
BIG News:
Sailor Son #2 called over the weekend (can't say from where) and he told me that he is comeing home for Christmas his leave time has already been approved! He hasn't been back home for the Christmas in 7 years and boy is everyone looking forward to seeing him and Cathy ....... he doesn't know it yet but he'll be the one passing out all the gifts this year (In my family it's one persons job to pass out the gifts and we do one gift at a time sometimes it takes a couple of hours to unwrap all the gifts) Please say a prayer that the Military won't need Sailor son #2 for the Holidays and that he can be home for Christmas
Hope your week is off to a FANTASTIC start!