Sorry it's been such a long time since I posted anything but real life does happen to everyone ..... Things are almost back to normal in some areas around my house so you should see me around more often ....... Now for some updates
CROCHET:
Here's my latest crochet since August. I finialy got around to making "Lovely In Lavender" it's been on my to do list forever!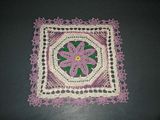 I didn't add the bead in the center of the doily I like it better without the bead
I made a "Swan Symphony" for my family ..... I have to do something with the necks the high heat and humidity we've had some of my necks are laying down LOL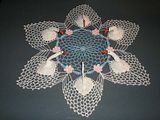 I also tested a doily called "Summer Roses" for Kathy at CrochetNBeads .... I really like this doily it looks perfect where I have it in my house and I have gotten a lot of compliments about it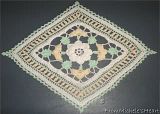 WIPS:
I just finished a Halloween wreath doily still have to tuck in a few ends.
I'm working on a Christmas motif doily the motifs are all joined but I still have to make the ponsettias and leaves, Started on a name doily this morning I have 3 of them to make for Christmas gifts I'm also working on the Turkey doily
I only knit one thing now and it's a Christmas stocking that my mom made years ago for me & my brothers I made one for each of my kids and one for my first DL ...... this year I have 2 to make one for my newest DL and one for my first grandbaby I started on my grandsons first I already have the ribbing done, Jacobs name, the Christmas trees and started working on the candles last night ........Boy does it feel strange working with yarn LOL