Camp Tweetsie:
Here's a picture of all the goodies my secret pal sent my way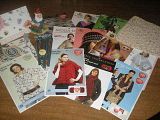 List of Goodies:
Take One Free patterns = Monkey Toy, Open Knit tunic,Retro Circle Throw,Crochet Topper,Crochet Lacy Fingered Scarf, Crochet Tote & Scarf,Crochet Afghan Squared, Heavenly Wrap, Tri-Clored Cloche,Crochet Belted Jacket, Crochet Restful Tiles Throw, & cabled Heather Wrap ..... she sure hit the Mother Load of "Take One's"!
A dishcloth ( it's my favorite one to make just like the name says LOL ) and a wonderful wind chime I love the sound that it makes ..... now to decide if I want to put it outside or find a place for it inside , I have wind chimes scattered around the house even in one of our bathrooms whenever I feel down I'll give one a quick flick and they will cheer me up I'll treasure the wind chime always!!!!
Here's a close up of the wind chime ..... I couldn't get a good picture outside it was to windy so I took it inside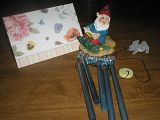 Thank you ,Thank you Secret Camp Crocheter!
Going to Camp is sooooooo much fun!
I have to get ready for work will update the rest tonight :)
Crochet:
My DH is forever telling me to make something for him and not another doily! Jim always gets a big kick whenever comcast (cable company) comes out with a new commercial starring "The Slowski's" and that gave me the idea to make Mr & Mrs Slowski for him. It took him a few days to find them I hid them on a shelf LOL The rule I made for the Slowski's is that every now and then someone has to move them to someplace different in the house ....you know they take a while to move ;)
I used
"this"
pattern to make them
I really enjoy making the Round Ripple afghan's ..... this one is going to be raffled off at the Afghan Booth at my Church this summer (I'm co-chairperson of the afghan booth)I made it exactly like the one I made myself this winter .... LOVE the bright colors!!!!!
Here's another picture
What does a girl do when her bestest friend is grounded and can't use the phone or go online? ..... pull out some yarn and a hook. Amelia searched online to find something little to make and decided to make a little
"Hello Kitty ornament"
. I think she did a really good job for the first time working in the round without joining
The two of us came up with are own idea to make a Hello Kitty afghan, this is how far we got (it's put on hold right now ..... Georgia is no longer grounded LOL)
Amelia wanted a black out line around the head the bows will be made with some hot green yarn I have in my stash ... the out line and bows will really make it POP!
Test Patterns:
I tested this cute ice cream cone purse for
Jullee
Anybody want some ice cream :)
I'm testing another pattern right now will post when it done
Family:
I'm going to start with the youngest first this time
Here's a couple pics of Jacob that were taken in the last week
The shirt that he's wearing was his daddies Jim bought 2 of these when Christopher and David were babies he just couldn't resist them..... .5 + .5 = a pint LOL
I don't know where this was taken but I know it's someplace in Japan :)
At the Tokoyo Zoo .... isn't he CUTE!!!!! Sending a great big kiss your way Jacob Grandma loves & misses you xoxoxoxoox
It looks like I'll be pulling an all nighter Friday night Jacob's daddy Christopher (sailor son #1) will be driving from Virginia to be here for this weekend. He's driving with one of his Navy Buddies they both figured this will be the last chance to see family members back home before they meet up with the USS George Washington .... it will be a short visit but I'll take any visit I can from one of my sailors
Sailor Son #2 (David) decided to re-enlist for another 6 years I'm so proud of him!
Work: